By now I'm sure you are pretty familiar with Shea Moisture products. You've either tried some of them, or you've seen them at your local beauty store. They are everywhere: Sally's, Ulta, Target etc… You can't really miss them. But did you know they also have a low porosity line?
Today I'm here to talk about the Shea Moisture low porosity line.
I briefly spoke about it in my previous post. But I wanted to do an official review for you!
I believe this line came out late 2015 early 2016, but I only found out about it a couple of months ago browsing their website. I never did anything about it since I was still transitioning. But, I found out that my hair has low porosity after the big chop, so in came the low porosity products from Shea Moisture.
After cutting my relaxed ends, I started having trouble finding the right products to keep my 4C low porosity hair moisturized. So when I remembered that Shea Moisture recently came out with a whole line dedicated to low porosity hair, I decided to give it try. What's the worst that could happen? My hair could not get any dryer than it already was. Shea moisture is already one of my trusted brands of haircare, so it was an easy decision for me to give them a try.
I picked them up from my local beauty store since I wanted to use them right away. I had an event to go to that night and needed my hair to look great. It was the first time my friends were seeing my TWA. Plus it didn't hurt that there was a special going on that day.
Well let's jump right into it, shall we?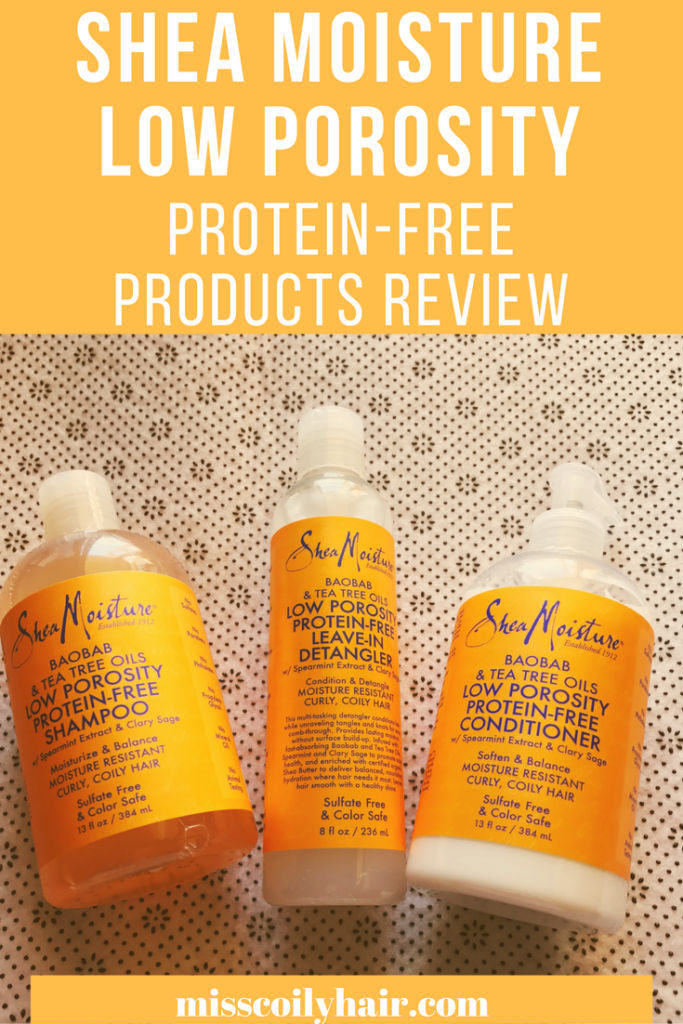 What does the Shea Moisture low porosity line come with?
The Shea Moisture low porosity line comes with 3 different products: The Shampoo, a conditioner, and a leave-in detangler. There is not a deep conditioner formulated for this line and it was a huge disappointment for me. But I got over it. I must tell you this low porosity line is the bomb! I am usually a skeptic when it comes to trying out new things, so I wasn't too sure what to expect. It didn't take me long to realize that I had nothing to be skeptical about.
The ingredients:
These products are made of nothing but natural ingredients. Shea Moisture Low porosity line contains no sulfates, no parabens, no phthalates, no propylene glycol, no mineral oil. Some of the main ingredients are Boabab oil, Tea Tree Oil, Spearmint Extract.
The Shampoo is a very light protein- free clarifying shampoo containing spearmint extract and Clary sage made specifically to remove product build up from the scalp. As you may already know,  a person with low porosity hair tends to get a lot of product built up. And it's necessary to use a clarifying shampoo at least once a week to remove those build ups (Read more about it here).
As soon as I applied the shampoo to my hair, I could feel the tingles on my scalp telling me it was doing the job. The shampoo has a light woody minty scent that is very pleasant and creates a lot of lather. I love the fact that I could run my fingers through my hair with ease by just applying the shampoo. One application was enough, I knew my hair was clean, plus it smelled amazing.  I give it two thumbs up!
This conditioner definitely complements the shampoo. It is not a deep conditioner, so you only leave it on for a few minutes, then rinse. It contains the same ingredients as the clarifying shampoo. Depending on the length of your hair, you really don't need to apply much. I'm rocking my TWA, so I only needed just a little bit to get the job done. The shampoo had already left my coils feeling soft but combined with the conditioner, my hair felt like butter. It was the first time since I big chopped that I really was happy with my wash. Of course, the smell is amazing. Another thumbs up for this low porosity protein-free deep conditioner.
I know I did nothing but rave about the shampoo and conditioner, I, unfortunately, don't really care for the leave-in detangler. I don't know what it is about it, but it just doesn't do it for me. It has a thicker consistency than the shampoo. And after applying, the softness previously created by the shampoo and the conditioner were taken away. My hair became hard to manage. I don't know if I'm doing anything wrong applying it (don't see exactly what I could be doing wrong, though), but once it touched my hair, it became hard to detangle. To me, it defeats the purpose of a detangler.
So when it's time to restock on my Shea moisture low porosity products, I will pass on the detangler. Thumbs down!
Let's talk about cost!
These products are each priced at $10.99 which I think is pretty good price and typical cost for Shea Moisture products. When I purchased them, there was a special buy 2 get 1 free which worked out great for me!
My disappointments:
The detangler makes my hair hard. It eliminates the work done by the shampoo and conditioner.
There is no deep conditioner formulated for this line.
I sure hope that a Shea Moisture low porosity hair mask/ deep conditioner is currently in the works and coming to a shelf near me soon.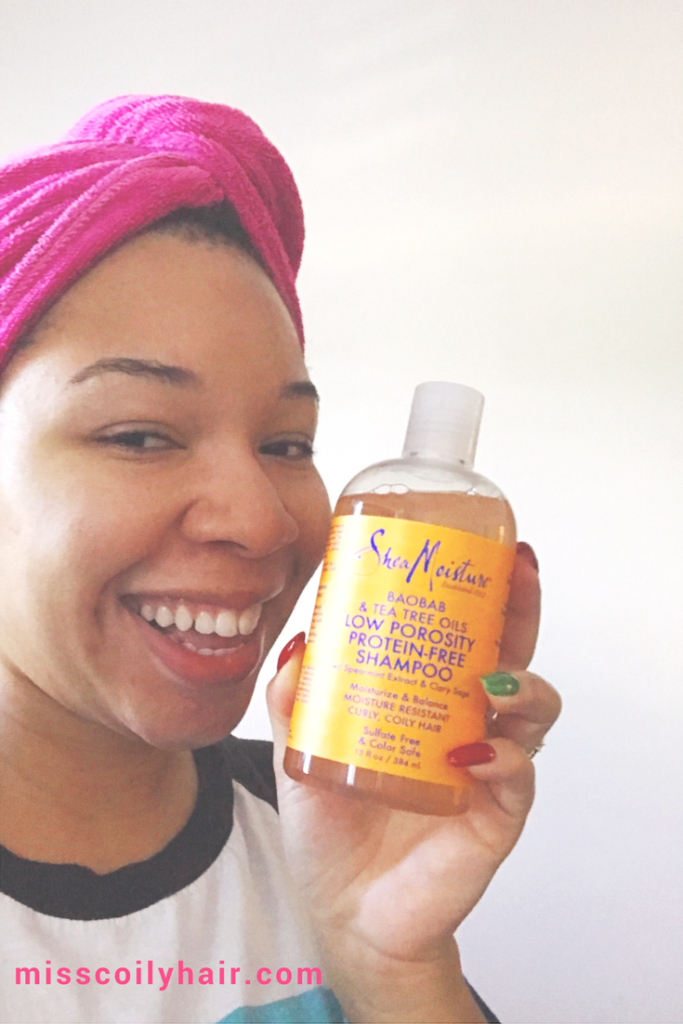 As you can see, overall I am in love with the low porosity line from Shea Moisture.
My hair looked so great by the time I was done. Again, I had a gathering to attend that night and I was excited to show off my fresh TWA. My hair was shiny, soft and I even noticed a hint of definition on my 4C coily hair. I think these products were created just for me. I truly hope they never stop making them.
If you have low porosity hair, I highly recommend using the Shea Moisture low porosity protein-free shampoo and conditioner. They work wonders!
I hope this review of the low porosity line from Shea Moisture was able to help you make an informed decision. If you were thinking about buying them, I say they are worth the money.
If you get to try them, come back and let me know. And if you've already tried them, let me know as well by sharing your thoughts below ⇓. I'd love to hear from you.
In the meantime, if you found this article useful, don't forget to hit the share buttons. Remember "Sharing is caring"!
Although this post contains affiliate links, all opinions are my own. Please see my disclosure page for more info.
Shop the products in this post ⇓