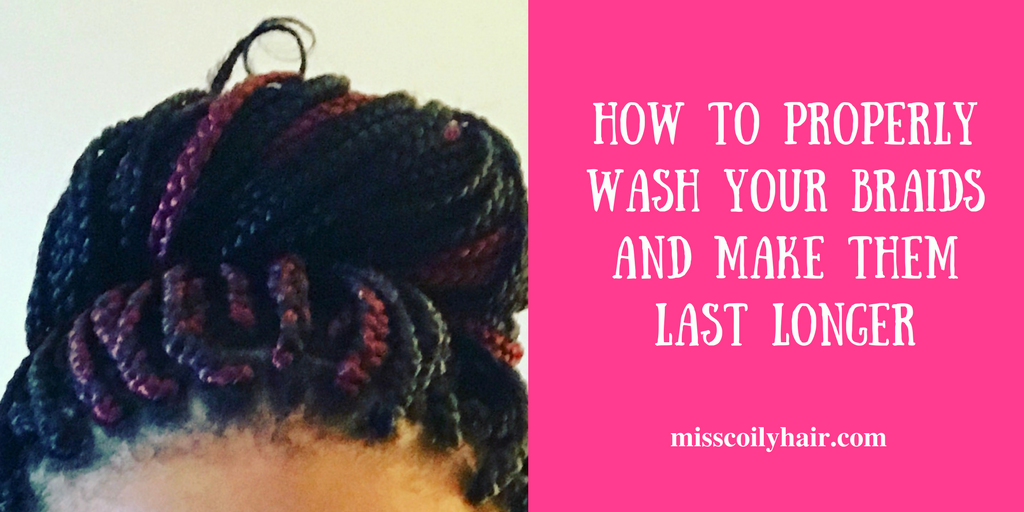 Braids are a transitioner's best friend. Box braids feed in braids, Senegalese twists, you name it, they all hold a special place in our hearts. But as much as we love wearing braids, they also present a major challenge. How can you properly wash your braids and avoid frizz altogether?
This concern I know will never get old. As long as we keep wearing braids, the question will always get asked. It is also a popular subject on many hair blogs. Anyone who wears braids eventually researches the subject.
When transitioning to natural hair, you will find yourself more often than not gravitating towards braids. Braids are a great protective style and a life saver for any transitioning girl. But how do you properly wash your braids?
As a protective style, braids are meant to facilitate a break from daily manipulation and avoid breakage. But as awesome as wearing braids can be, washing a head full of braids can get very tricky. Let's be honest, we sometimes braid our hair and leave it on for weeks at a time without washing just because they are a pain to wash. Unfortunately going weeks without washing your braids is not healthy for your hair and is simply disgusting.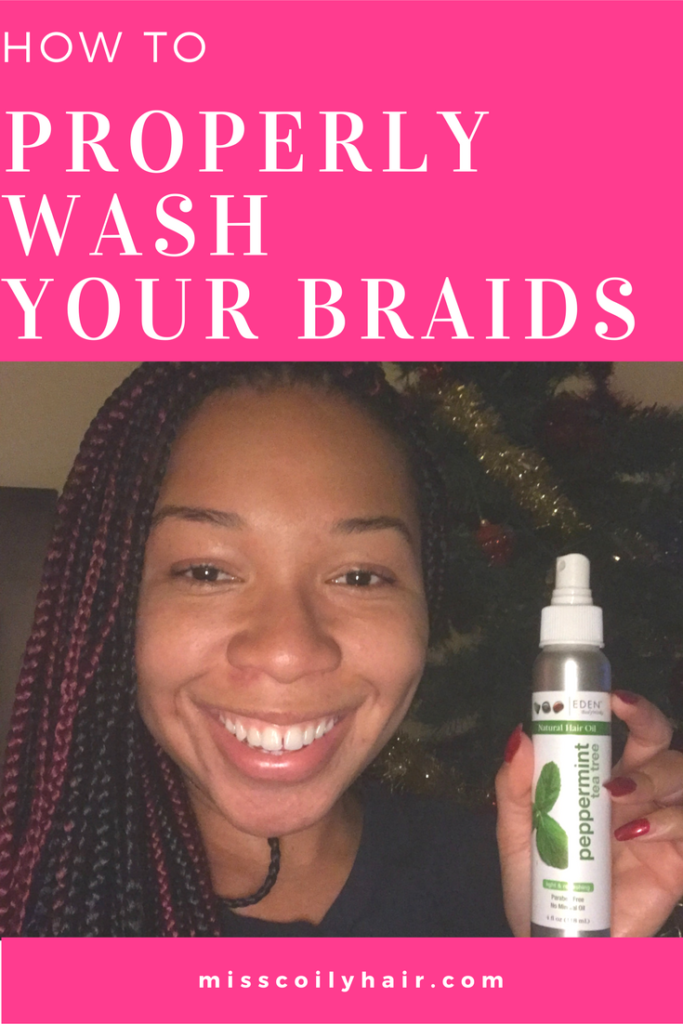 So what is the best way to wash your braids or properly care for them?
The best way to wash your braids varies per person. I've always washed my braids in the shower as if I was washing my regular hair. But they get heavy after wash which weighs my hair down. I hate that. It pushed me to look into other possible methods to wash them.
I came across the ACV method. ACV method is a method where you mix one part of apple cider vinegar with two parts of water and a few drops of tea tree oil and peppermint oil. The ACV method does not involve wetting your braids, it's a dry method.
With the ACV method, you simply use cotton balls and scrub the mixture on your scalp to clean the braids. The ACV is meant to remove hair residue,  keep your braids clean while avoiding frizz. It sounded good, so I decided to give it a try.
I had a couple of issues with that method when I tried it. First, I didn't feel like my scalp was clean. My scalp still felt dirty and itchy when I was done.  Second, the smell of the apple cider vinegar is not the most pleasant to deal with. It took some time to go away. Within a couple of days, I felt the need to clean the braids again.
At that point, I realized that I needed to wash my braids the old fashion way with a twist.
What is the old fashion way of washing your braids? All you need is water, shampoo, conditioner and a spray bottle. The spray bottle will make your life easier. You will apply the shampoo prior to getting in the shower.
See the steps to properly wash your braids the old fashion way below:
Dilute the shampoo with water in the spray bottle.
Part your braids in small sections and start spraying the diluted shampoo on your scalp and massage with your fingertips.
Repeat the process all over your hair.
After applying the diluted shampoo to your scalp, rinse it out (in the shower or in the sink). I prefer the shower because it allows the shampoo to run down the length of the braids.
Lastly, apply conditioner all over the braids and rinse out.
You can decide whether you want to air dry or blow dry your braids at this point. Now remember, your braids will be very heavy at that time. It is the price to pay for wetting them. But it is your best possible option. Use a towel to remove excess water.
Keep in mind that wet heavy braids will cause tension on your hair which then can cause damage to your hair. (Read all about the dangers of protective styling). Your best option will be to blow dry or sit under a hooded dryer and allow your braids to dry 50-75% before you do anything else.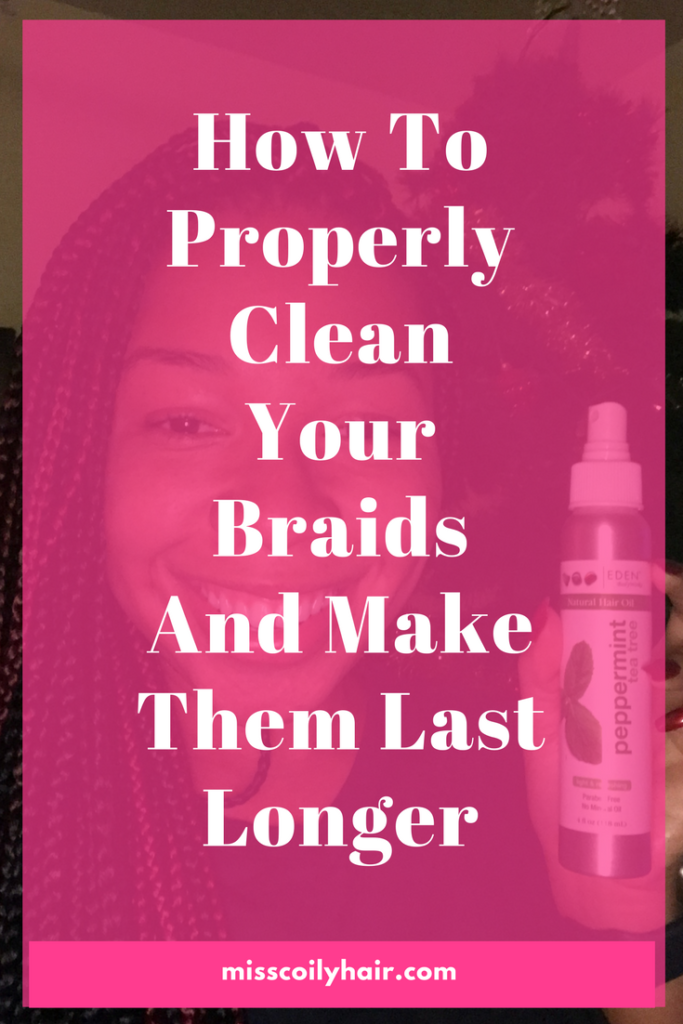 Once your braids are dry, I suggest you use this Peppermint Tea Tree hair oil mixture from Eden Roc. It will leave for scalp feeling fresh and smelling good. The main reason I bought it is because it helps prevents itching. I've used this product every day since I've purchased it. My scalp is loving it. It's also supposed to prevent damage and breakage. If you try it, let me know how you like it.
So here it is ladies! As I mentioned earlier, the proper way to wash your braids varies per person. Personally, I think spraying your hair with diluted shampoo is the best way to wash your braids, just because I experience a deeper clean with that method. Plus I don't have any issues with frizz either.
What about you? Have you tried the ACV method? What is your preferred method to wash your braids? Share with us below ⇓. I would love to hear from you!
I hope the information found here was helpful to you. If you found this article helpful, hit the share buttons. Help me spread the word by sharing with your friends on social media! Remember, sharing is caring!