In the natural hair community, there's the never-ending debate whether or not it's better to transition or to big chop to natural hair.
When I made the decision to go natural, I asked myself just like everyone else, which option would be better for me. Would it be better for me to transition or to big chop my hair?
After giving it some thought, I decided transitioning was a better option. I came to the decision after going over several scenarios in my head.
Five months later, I feel myself nearing the point where transitioning is no longer an option, and it's probably time for me to big chop my hair.
A lot of you are currently considering going natural (probably why you're reading this article). And with that, you are now wondering whether it's better for you to transition or to big chop your hair once and for all.
There is nothing wrong with wanting to transition instead of doing the big chop. And there's nothing wrong with wanting to big chop vs. transitioning.
If you're having a hard time deciding, to help you out, here are a few things to consider when deciding whether to transition or to big chop to natural hair.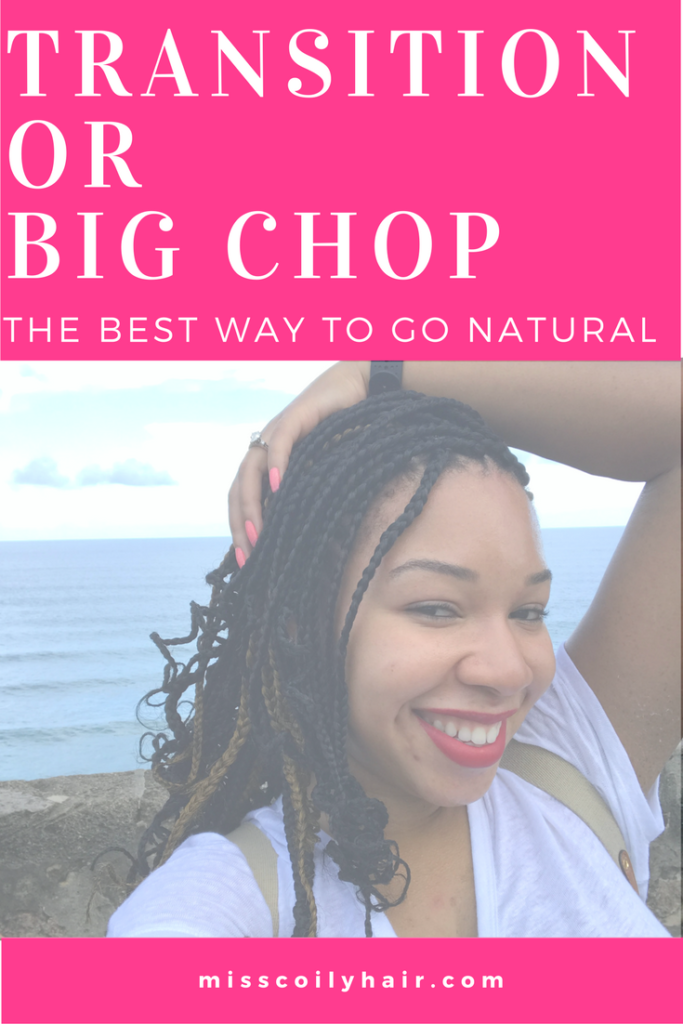 1- Time. Do you have the time to give your hair the care it needs? Natural or relaxed, your hair requires time. But when you are in the transitioning stage, your hair will demand more of your time than if you were fully natural. So figure out how much time you can dedicate to taking care of your hair daily and the decision to transition or to big chop will be easier.
2- Patience. Transitioning to natural hair also requires patience. The first few months of transitioning are usually smooth sailing. But once you hit the three months mark of your transition, your hair becomes harder to manage. That is because you are dealing with two different hair textures: natural and relaxed. Will you have the patience to deal with your hair once it gets to that state?
3- Alternatives. If transitioning think of alternative ways to deal with your hair once you can no longer manage it. Are you open to wearing wigs or braiding your hair? Some people don't really like wearing wigs or braiding their hair. If you fit into that category of women, grab your scissors! Transitioning might not be for you.
Although I was not a big fan of braids, I had to turn to braiding my hair once I had enough of dealing with the different textures. But, I still can't bring myself to wear wigs.
4- Hair Health. What is the health of your hair? Are you experiencing constant breakage? If your hair is badly damaged, opting for the big chop might be a better option for you. Holding on to damaged ends will only damage your hair some more.  That in return will get you frustrated.
5- Criticism from others. Whether you know it or not, the process of going natural is not only physical but mental and emotional as well. Everyone will have an opinion about how you look, especially when you suddenly come from longer hair to a TWA (teeny weeny afro). So if the opinions of others affect you, big chopping might not be for you. You might be better off transitioning instead. Read more about the judgment of others in this post.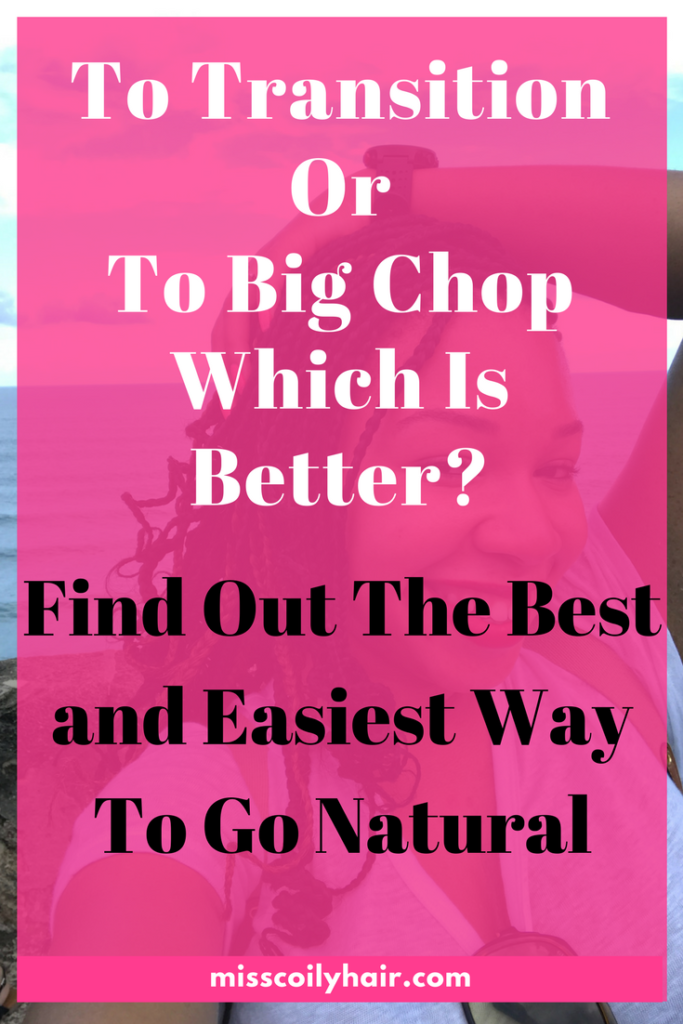 Like I mentioned earlier, I first decided to transition instead of doing the big chop. I was used to a certain amount of hair and did not want to lose it all at once. Although I am no stranger to haircuts, I just could not picture myself with a TWA. It just wasn't for me I decided. I also had difficulties getting my fiancé on board.
Now, after 5 months transitioning, I've had enough dealing with the different textures in my hair. So I'm currently counting the days to my big chop. I feel that I am finally ready to be fully natural and not have to worry about properly maintaining different hair textures. I realized that I do not have the time, nor the patience to deal with it.
At the end of the day, as I previously stated "To transition or to big chop" is a personal decision, but before you start either process, just use this list as a guide to help find out which will work best for you and your situation.
Is there anything you would like to add to this list? If so, leave your comments below ⇓
If you found this article useful, don't forget to share it!