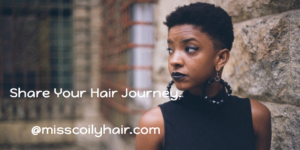 Encouraging women to share their natural hair journey and how being natural empowers them. This is also a way for us to network and get to know each other, and best of all increase our reach.
If you're currently transitioning or thinking about going natural, know that you are not alone. There is a growing community of natural hair women who want nothing but support each other. By reading these stories, I hope you find clarity and get the motivation you're looking for to pursue your own natural hair journey!
Click on the boxes below to read more about our Natural Hair Queens.
If you interested in being featured on the page, Send me an email with you hair story at vany@misscoilyhair.com
In the meantime, don't forget to check out the blog.
Let's Connect on Social media ⇓