Ladies, to kick off our "Share Your Natural Hair Journey Segment" I am excited to introduce to you Chloe from Naomindoll.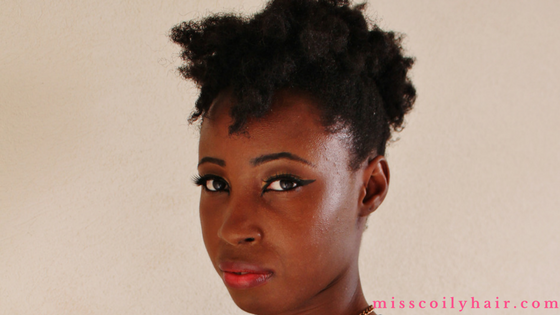 I got to picked Chloe's brain a little bit. Today she is sharing with us what pushed her to go natural and what impact wearing her natural hair has had in her life. Without further ado, let's find out what she had to say!
Tell us about you. What is your name and where are you from?
My name is Chloe and I'm just an average girl from the Caribbean island of Barbados.
Are you fully natural or still transitioning?
I am currently fully natural and absolutely loving it.
What made you decide to go natural?
There were two reasons:
Firstly I was concerned about the health of my hair and my body. Have you ever looked at the back of a box of relaxer? It says that you shouldn't use it when you're pregnant or while breast feeding. Now most companies put that in their products as a precaution, but it left me unsettled. Who's to say it wasn't affecting me all of the time that I was using it? Especially  with the scalp burns and what not.
Secondly, I was hoping to study or work in Japan in the future. And most of the black girls who live there that I know are 100% natural. So I figured why transition in a county where my resources will be limited? Instead I could get a head start back home and give myself time to understand my hair. Especially in an environment where I won't feel lost.
Did you transition or did you big chop? Why?
I transitioned because at the time, my mom (Whom I lived with) was so against it. She didn't me cutting my hair. And I didn't want to deal with her freaking out. So Transitioning was just the easier option for me.
How long did you transition for?
I transitioned for a year. My last keratin treatment was mid 2013, and that's when I made the conscious effort to go back to natural. During my year of transitioning, I mostly wore wigs and weaves which made the process easier for me.
How long have you been natural?
In total, I count three year from November 2013. I include my year of transitioning as part of me being natural.
What is your hair type and how would you describe your hair?
My hair is a mixture of 4b and 4c. I would describe my hair as wooly. It can soak up products and water with ease. But let me not braid it before bed or go without my satin cap. It will mat and tangle very easily.
How has being natural affected your life (both personal and professional)?
It's forced me to learn about my hair. I get more compliments on my hair now than when it was processed. My family has officially come around to accepting me being natural and are generally supportive. On the professional aspect, I haven't had a problem with it. Maybe it's because I am from predominantly black country (Barbados). But I have also heard of those with dreadlocks being discriminated against in the workplace.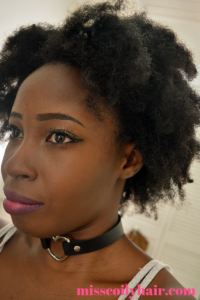 Give us an idea of your hair care regimen? 
My hair care regimen goes something like this:
First, I section off my hair into 6 parts/twists.
I wash my scalp with medical shampoo due to my skin condition. I make sure not to lather up my hair. Then I rinse my hair and let the shampoo glide down my hair until I see no more.
I apply apply an cider vinegar rinse to my scalp and massage all over .
Then I apply conditioner (I'm not particular about any brand) to my hair, and try to avoid applying directly to my scalp. I target from m roots to my ends.
I detangle and leave the conditioner for 20-30 minutes. Then I rinse it out, making sure there is no residue.
While my hair is still damp, I apply an oil of my feeling (olive or coconut), then a leave-in conditioner, and then lastly either get or my shea butter.
I then put my hair in midsize twists or plaits, and bonnet it up. I usually leave my hair in this state until I have to go out, then I'll do a braid/twist out. Or I'll just wear a wig
What are your favorite hair products to use?
My favorite products to use are usually anything from Cantu or Aunt Jackie's. I also swear by Mango & Lime Locking Crème Gel. It's perfect for those of us with 4c hair texture and want defined braid outs. I try not to experiment too much unless I've seen amazing reviews for a product. This is because hair care products are by far not cheap in Barbados.
What is/are your favorite hairstyle (s)?
I love a cute braid out or twist out, any style with space buns and a fro-hawk.
Which websites/blogs do you use for inspiration and advice for your natural hair?
I pursued aa lot of websites when I first started, but have since fell out. I now mostly google what I'm curious about and read three websites before I make my own decision. But if there's one website I do like, it's Blackgirllonghair.com.
Who is your favorite naturalista and why?
Chime Edwards on Youtube. I just love her and find her to be a big inspiration when I first started to transition. Sometimes, I still go and check her out. I also love how transparent she is as it relates to her hair and her journey.
What is your hair goal for the upcoming year?
I'm currently reaching shoulder length with my hair. So let's see… armpit length hair? Also I'd like to reduce knots the best I can. I've been so bad in that department. I usually just cut where I can't fix. So I'm looking to prevent it to begin with.
Is there any advice you'd like to give to our readers currently transitioning or thinking about going natural?
There's going to be naysayers in your life when you start. But don't let them get to you. You're definitely not alone, there's a lovely community of black women out there who are going to back you up and support you. Research watch youtube videos, and get inspired. But don't compare yourself to others. Everyone's journey is different and the sooner you realize it yourself, the happier you'll be. Trust me.
Lastly tell everyone where you can be found.
I can be on my lifestyle and beauty blog Naomi 'N Doll. If you want hassle free updates of my blog, follow me on Bloglovin. You can also find me on Facebook, Twitter and Instagram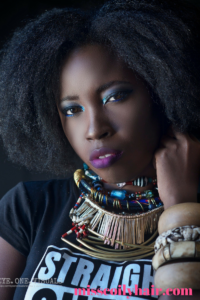 There you have it ladies! I hope Chloe's story was able to inspire you and give you the push you needed to continue on your journey, or take the jump and join the growing community of beautiful natural hair women out there.
To read about more of our lovely Natural hair queens, click on this link. Every Friday we will bring you a new natural hair queen. Make sure your subscribe so you don't miss out.
If Chloe inspired you and if you have any questions, let us know by leaving your comments below ⇓
See you ladies next week with another Queen sharing her natural hair journey
XOXO
♥Miss Coily♥