Welcome back for an update on my natural hair journey.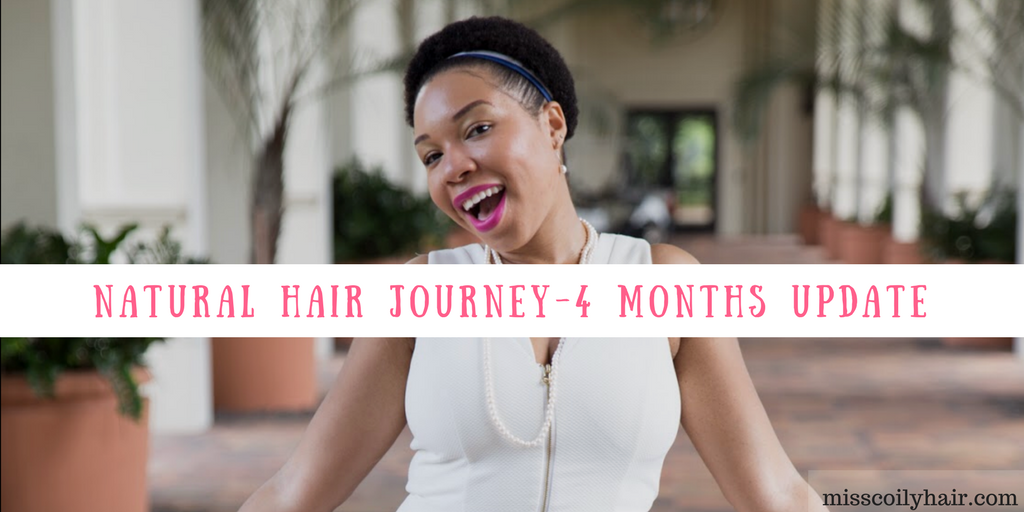 As the title suggested, I am currently 4 months natural and I am still enjoying the journey!
When I took the scissors to my hair in December to get rid of my relaxed ends and start on my natural hair journey, I had no idea what I was doing. And I definitely had no idea what to expect. But here I am 4 months later and I still believe it was the best decision for my hair.
As time goes by, I am getting more comfortable with my choices when it comes to styling my hair. I also have a better understanding of the products that I should and should not use on my hair.
If you've read any of my previous posts, you already know that I have low porosity hair. I'm glad I discovered that early on in my journey. Learn more about hair porosity here.
Having low porosity hair made it a bit more challenging for me to figure my hair out. Many products I used when I was relaxed and transitioning, my hair au naturel did not agree with. It forced me to pay more attention to what I was putting in my hair and pushed me to read the labels each time I decided to buy a new hair product.
Here is a list of the products that have been working for my low porosity natural hair lately.
Feel free to give them a try especially if you have low porosity hair. They will work wonders on you. You can come back and thank me later.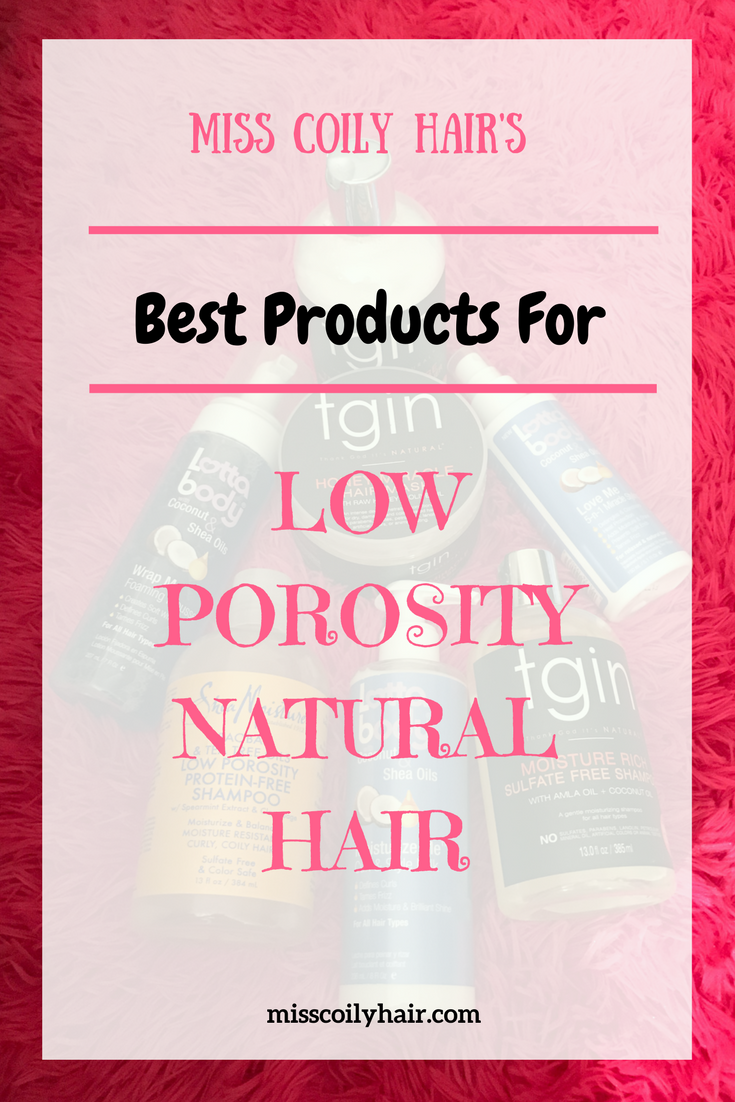 1- Shea moisture low porosity line. I only use the shampoo and conditioner from the line, not the detangler because it just did not work for my hair. Feel free to try it though (not everyone's hair is the same). If you want to know if this line is worth using, read my full review of the whole line here.
2- Lotta Body Styling products. I am completely in love with this line. So far, I've used the styling Crème, the style milk, the foaming mousse and setting lotion. These products are the bomb for pretty much any style you want to achieve on your hair (relaxed or natural). Wash n Go, twist outs, braid outs, you name it, they will come out beautiful and super defined.
They just came out with a shampoo and conditioner that I can't wait to try. I will be reviewing them on the blog once I get to try them a few times. Stay tuned! In the meantime, you can read the review on the Lotta Body styling products here.
3- TGIN Shampoo and conditioner are my go to outside the shea Moisture protein-free low porosity products. My hair loves this brand as well. The TGIN shampoo is very moisturizing and leaves my hair feeling fresh and moisturized after every wash. Then we have the TGIN hair mask wich is by far the best deep conditioner for my hair.
I've experimented with other products that I will talk about some other time. But the ones mentioned above are by far the best products I've put on my low porosity natural hair since my big chop.
I learned to use products from one specific line.
Using products from the same line produces better results on my hair. So, I make it my mission to find a few lines that my low porosity natural hair likes and use all or most of the products from that line instead of mixing and matching different lines.
I also learned that low manipulation aids in length retention.
You hear it all the time, but I think until you experience it for yourself you won't really understand it. The less you manipulate your hair, the more length you'll retain.
You might have read in my "How To Style Your TWA" post that my go to style is the afro puff. But as easy and convenient it is to achieve this style, it doesn't necessarily aid in growth.
Once I started experimenting with different protective styles: twists, braids, finger coils etc… is when I started noticing a difference in my TWA.
So now, although twisting or braiding might take me a long time, I try to put some time aside each week to put my hair in some kind of protective style for at least of few days to keep manipulation in my hair at a minimum.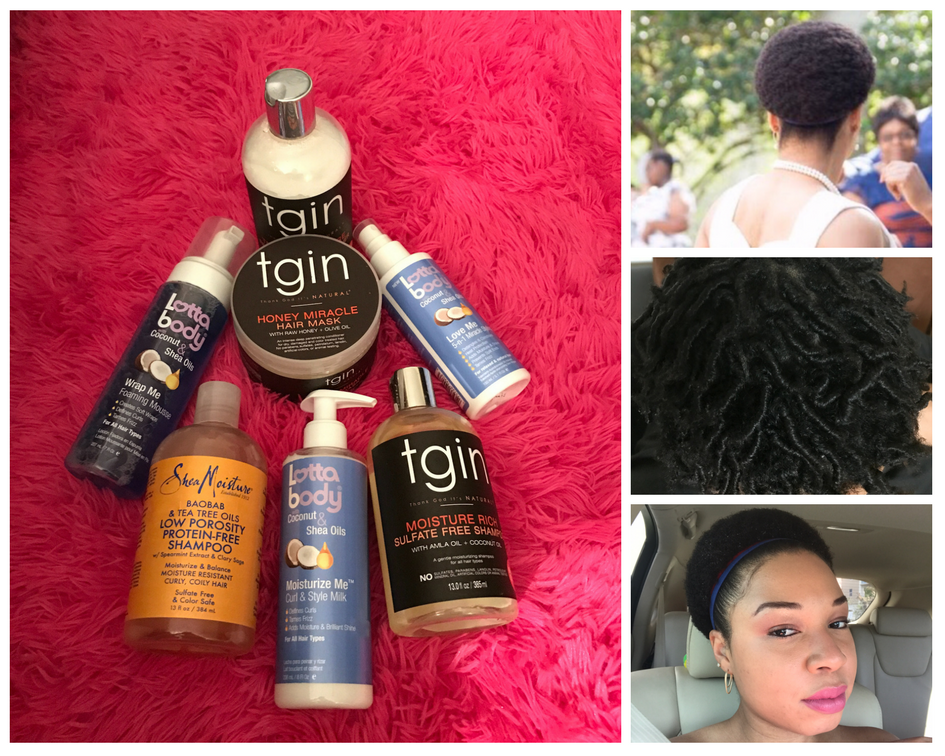 I'm also learning to ignore negative and mean comments about my hair.
Although I get plenty of compliments, every now and then I get to deal with some negative comments about my natural hair. At first, I would let it get to me. But if you read my last post, I'm slowly learning to tell people to kick rocks when they have something to say about my hair.
Although I wouldn't consider myself an expert just yet (not sure one ever becomes an expert), after 4 months of being on this journey, I feel more confident and I know much more about caring for my low porosity natural hair.
I know there's a lot more to learn on this journey and it might not always be easy. But I am excited for the road ahead. I hope by being open and sharing my journey, it can help inspire someone having a hard time making a decision or feeling discouraged about their own journey.
I hope you found this article useful and help me spread the words by hitting the share buttons.
What are some of the things you learned early on your natural hair journey? Is there any advice you'd like to share with me and the readers? Share your thoughts with us below ⇓. I'd love t hear from you.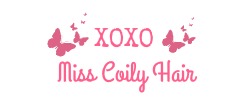 Though this post may contain affiliate links, all opinions are my own and I personally use each product mentioned.