Hello, lovers! It is that time to talk products again. And today I am excited to bring to you a brand that I recently got acquainted with, Lotta Body!
Most of you probably are familiar with Lotta Body. Some of you have no clue who they are. I myself didn't even know they've been around for a long time and recently went through a rebranding process.
Anyway, their new look is not what we're here to talk about. Their products line is what I'm excited to go over with you today.
As you all know (if you've been following me) I have low porosity hair and it has been hard for me to find products that work well for my hair. I've bought, tried and returned so many hair products the past month and a half that I've started getting discouraged.
So I decided to go on the prowl. Now slowly but surely I am finding products that work for me.
And as always, I am happy to share with you my findings in the hopes that some of these products if not all will do your mane good as well.
You may or may not know that I recently found the Shea Moisture Protein-free Low Porosity line that I absolutely love. You can find the review here. But the line does not carry everything I need for daily use, so I had to keep looking. That's how I ended up buying a few products from the Lotta Body Coconut & Shea Oils collection.
Today I am reviewing 3 different products from Lotta Boday Coconut & Shea Oils Line.
I had heard about Lotta Body through facebook and was instantly drawn to it. But I could never find them anywhere. It wasn't until December last year that I stumbled upon them at a Sally's while returning a product that I did not like.
I ended up buying the Love Me 5-n-1 Miracle Styling Crème, the Moisturize Me Curl & Style Milk and the Wrap Me Foaming Mousse. 
Fun fact, after buying them, I stashed them under my bathroom sink and did not touch them for a good month.
Last week I wanted to try a twist out on my TWA and was wondering what products to use. Thank God I remembered I had these products gathering dust under the sink. So I decided to put them to good use.
Spoiler alert: I must say I was pleasantly surprised!
I really had no idea that I would instantly fall in love with these Lotta Body Products. The skeptic that I am was gearing up for disappointment just as usual. But Lotta Body proved me wrong and I'm happy.
So Let's break down each product.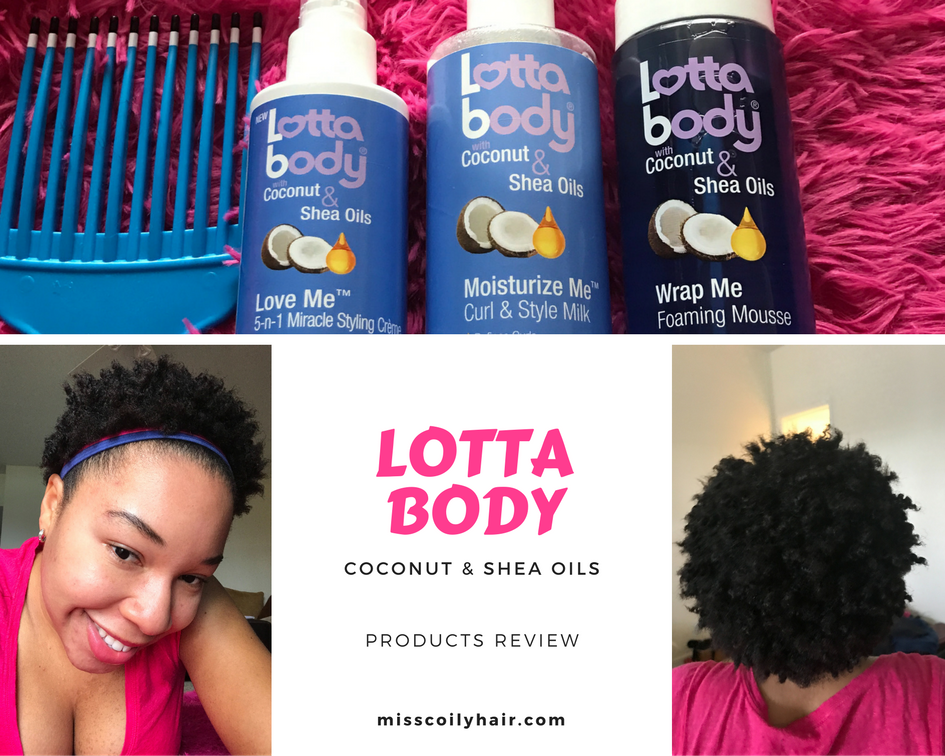 This styling crème is formulated for all hair types. It's meant to detangle and condition, provide heat protection, add moisture and shine, prevent split ends and tame frizz. The main thing you need to care about when it comes to this crème is how easy it makes the detangling process. Once you apply it on your hair, all the tangles seem to melt away. After using this styling crème, I realized that my hair has found its best friend. And it only happened after one use. I was amazed! I now carry this product in my purse. That is how much I love it!
This product again is formulated for all hair types. It is good for curl definition, tame frizz, add moisture, and brilliant shine. I like to use it right after I use the styling crème ⇑ because both products combined provide maximum moisture and shine to my hair. What more can you ask for in a product?
Here is my opinion of these first two products.
I am totally in love. To me, they are heaven in a bottle for any natural girl, especially for a low porosity natural girl. I never thought I would be singing Lotta Body's praises to you right now. But I am!
If your natural hair suffers from a lack of moisture, you need these two products as part of your hair care regimen. You can use one without the other if you want, but I love to use both together. I find that I get maximum results that way.
I first tried the Lotta Body styling crème and moisture milk when I wanted to experiment a twist out on my TWA. I was so satisfied with the results that I now use them both on a daily basis for my wash n go as well.
My hair feels so moisturized after usage, I still am in awe. Let's not forget about the shine it adds to your hair, and the frizz is definitely under control. I thought it was all in my head. (Technically, it was. Lol).
I wanted to give it one more try before deciding if I would keep using these products.
So after my first experience using the Lotta Body Styling Creme and Moisture milk, I just had to use them again just to make sure that  I wasn't getting excited over nothing. So I used them a second, third, fourth time waiting for the moment of disappointment. I'm happy to report that it never came.
Did I mention how easy it is now to detangle my hair? As soon as I apply the styling crème and the moisture milk, all my tangles seem to disappear. I never thought it'd be possible to get such great result on my 4c low porosity hair. Read more about low porosity hair.
To think that I went weeks complaining about not being able to keep my hair moisturized and these babies have been sitting in my bathroom for weeks. I could've saved myself a lot of frustration.
The last product I tried from this collection is the foaming mousse
Last night I thought I'd give the foaming mousse a try as well. The foaming mousse is meant to create soft wraps, define curls and tame frizz.
With natural hair, I obviously can't do a wrap. Lol! I wanted to do a braid out and I figured I'd give it a try. Once again it turned out well. I had very little frizz, great definition all the while very moisturized hair. (See for yourself).
Although this is not a product that I'll be using daily, it is a great product to keep around for the occasional twist outs, braids out and anytime you're looking for definition on your curls.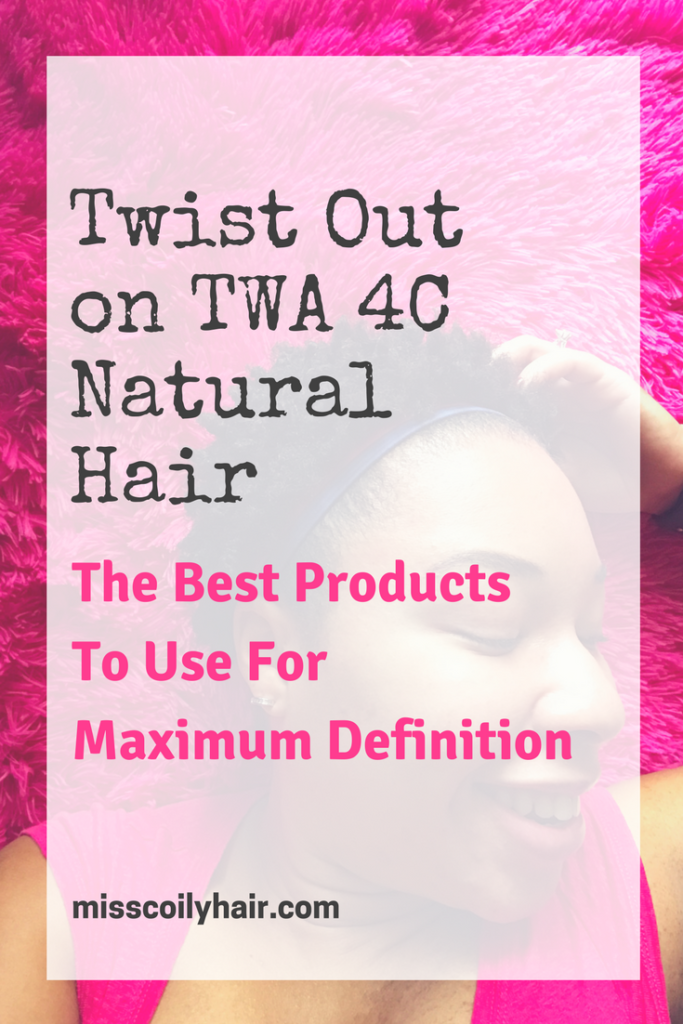 My final thoughts on the Lotta Body Coconut & Shea Oils collection.
I give this line two thumbs up. Lotta Body delivered on its promise with these products.
Moisture: check
Shine: Check
Curl definition: check
Tame frizz: check
I haven't tested it for heat protection so I can't report on that right now.
They are priced reasonably and should fit all budgets. They have a very pleasant coconut smell, light enough for me to be okay with. (I hate over powering coconut aroma). The bottles are small enough to carry in your purse if need be.
My only disappointment is the size of the bottles they come in. They are small and you run out pretty quick. I wouldn't mind paying more for bigger bottles and not have to keep restocking. So although the smaller bottles are great to take with you, I'd love to have bigger size options available as well. Hope Lottabody is taking notes.
Since I've been natural, it's been hard for me to find products that work for my low porosity hair, but I think I am on the right track with this Lotta Body collection.
Overall I am very satisfied with the Lotta Body Coconut & Shea Oils collection. It does everything it says it should. I know I've only tried 3 products from the line, but based on the results, I have a feeling the other 5 products are equally as good.
Next on my list to try from the Lotta Body collection will be the co-wash and possibly the edge control.
There is one more thing I really need to add to this review: Lottabody is the truth! Whether your goal is a twist out, a braid out, a wash and go, or just achieving moisturized curls, you are guaranteed great results with the Lotta Body collection. But don't let me be the one to tell you, try for yourself!
Although this post contains affiliate links, all opinions are my own. Please see my disclosure page for more info.
Have you tried any of these products? If you have any thoughts/concerns/questions, drop a comment below⇓ I'd love to hear from you.
I hope my review of this wonderful collection was helpful to you. Don't forget to hit the share buttons to help me spread the word. Til next time!