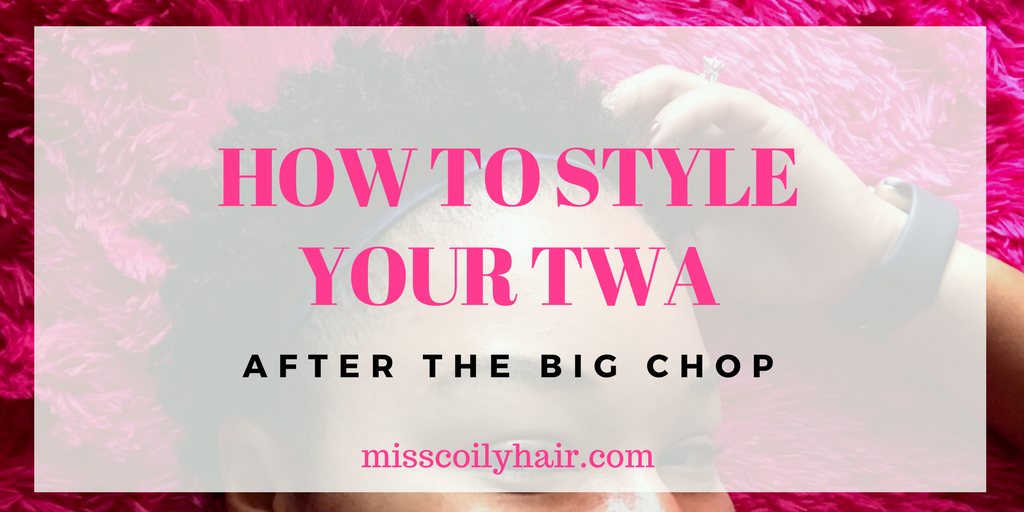 So you recently did the big chop and now you are at a crossroad. What are you to do with your hair, or lack thereof? You are starting to question your sanity and doubting the decision to get rid of your relaxed hair. But let's face it, it's too late to turn back now.
So, the best thing for you to do at this point is to find different ways to style your TWA so you can feel better about you decision to chop your hair off. Where should you start? Don't worry, I got you covered…
In this post we will be discussing different ways to style your hair after the big chop.
I recently received an email from one of my lovely readers asking for advice on how to style her hair after the big chop. She recently cut her relaxed ends out after transitioning for 5 months and she is finding it difficult to style her TWA.
If you are a new natural make sure to check out 1 Thing Every New Natural Should Know.
I'm more than certain that she isn't the only one having this issue. Cutting your hair out after being relaxed for years can be a big shock and a bit traumatizing for some. One thing for sure, a lot of us have no idea what our hair looks like without a relaxer, and worst how to style it.
God knows I went through a period of shock right after the big chop which led me to question my sanity for doing something as drastic as cutting my hair. Thank goodness I quickly got over it once I started figuring out how to style my TWA.
So if you're having any kind of doubt or trouble with your hair after the big chop, this post is definitely for you.
Continue reading below for some great ideas on how to style your TWA after the big chop…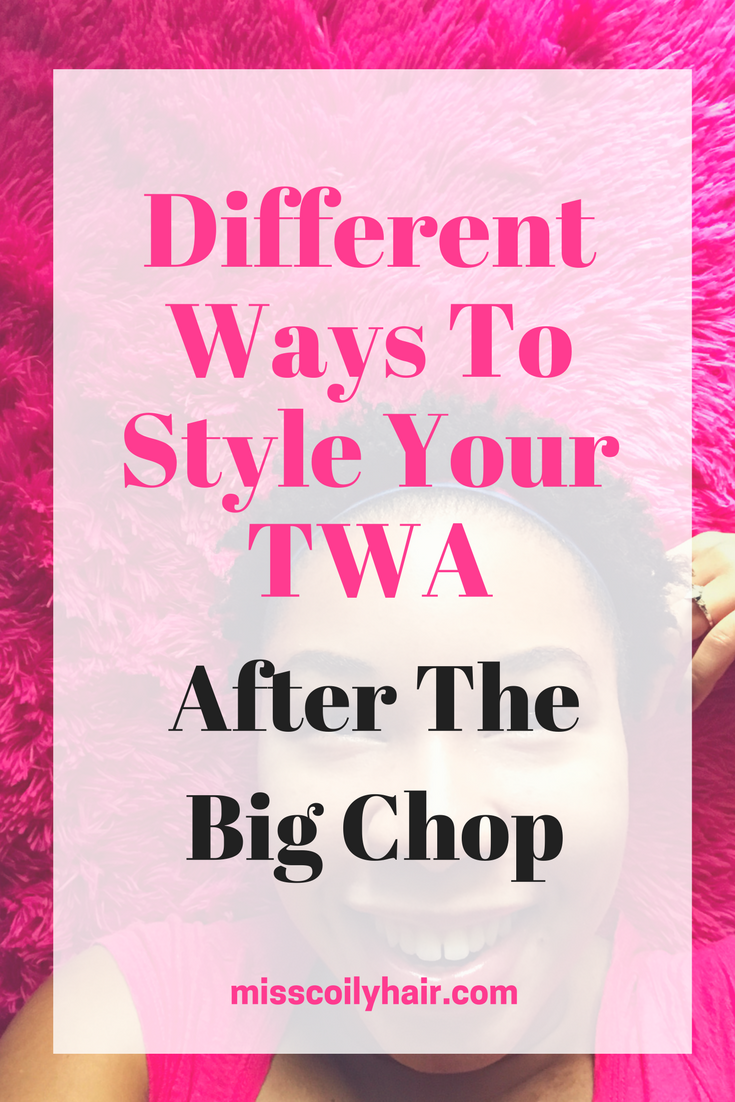 Below I have listed for you some basic ways you can style your hair after the big chop.
1- Wash and go. 
You probably will find out quickly that a wash and go can be a lifesaver. It is a simple and somewhat easy way to style your TWA. I say somewhat easy because for some it might take longer to achieve the desired definition than others. Nonetheless, when all fails, a wash and go will always save the day. And it can last a few days if taken care of properly. Wash N Go Tutorial.
2- Afro puff.
This hairstyle is my ultimate favorite as of now. It is so easy to achieve. After I did the big chop, I found the afro puff to be the most convenient hairstyle for me. I am now 3 months post big chop, and I still rock my afro puff everywhere I go. Read about what I learned my first month being natural.
You can do it on freshly washed or co-washed hair, or just by spritzing some water or your favorite moisturizing cocktail onto your hair. After, adjust your headband to your liking. And there you have it! The downside to the afro puff is the fact that it doesn't last more than one day.
3- Twist out or braid out.
You can experiment with twist outs and braids outs as well. I must warn you that this process is time-consuming and sometimes a pain depending on the length of your TWA. So if you don't have the time or you're not feeling adventurous, don't even go there. Twist outs and braid outs can also last a few days.
Per my experience, twisting takes a lot longer than braiding, but the result is much better. I'm still trying to master my twist/braid out. Twist out Tutorial.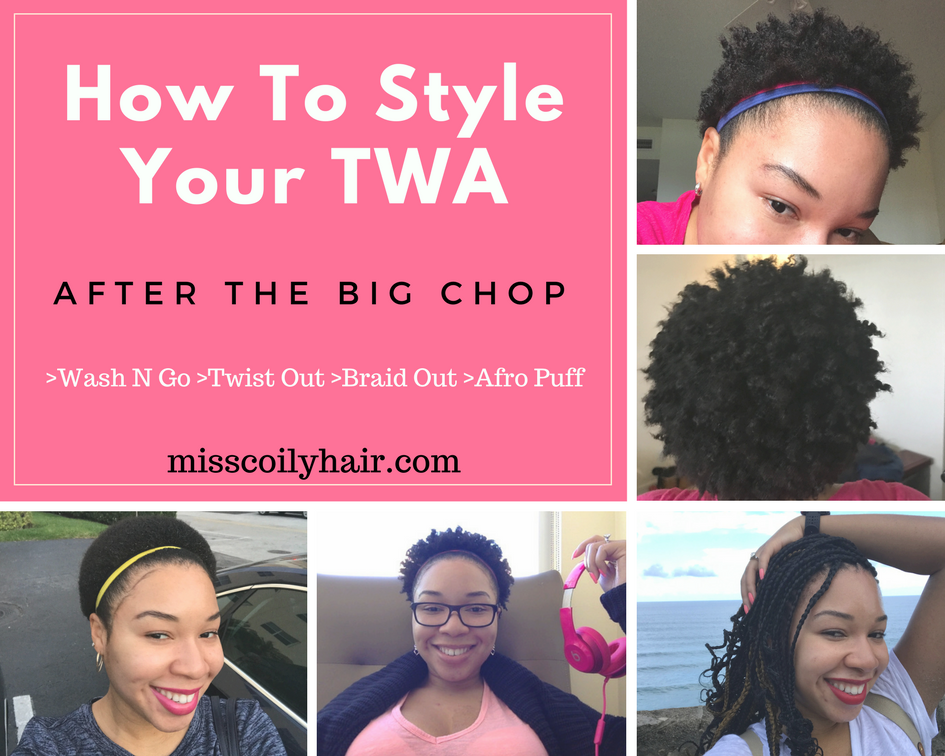 4- Finger coils.
I have yet to try the finger coils mainly due to my impatience. But I've seen some beautiful finger coiled TWA around (in person or on the internet). So if unlike me you have the patience, I say go for it. Finding someone who can get it done for you is your alternative. The style is beautiful and it can last at least a few days. I will be making my first attempt at finger coils very soon. Stay tuned Finger Coils Tutorial.
5- Protective styles.
Right after the big chop, protective styles such as box braids, Senegalese twists etc… are a good solution for your hair. Not only will they help by giving you the time to process having shorter hair, but they will also help you avoid over-manipulation of your hair, and allow it to grow.
You can keep your braids or twists on for weeks at a time which is great while you figure things out and educate yourself about your hair.
Styling your TWA after the big chop does not have to be painful.
I understand it might take a little bit of time figuring things out right after the big chop, but it's nothing for you to panic about.
As I mentioned above, although I experiment with the different hairstyles, my signature style is the afro puff and I pretty much rock it anywhere I go. See for yourself here. So my suggestion is that you do the same. Try the different styles you read about above and find what works best for you. Make it/them your best friend(s) until you have enough length to do more with your hair.
I hope this post enlightened you in regards to different ways you can style your hair after the big chop.
I know this subject is a burning topic amongst new naturalistas and I hope the different styles mentioned were helpful for you in your new journey.
Let's Chat⇓
Have you tried any of the styles mentioned in this article? Or is there a style you think should be added to the list? Please let me know in the comment section below ⇓
If you found this article helpful, help me make it go viral by hitting the share buttons.