Are you due for a getaway and looking for your next vacation destination? Look no further. Visiting Puerto Rico might be just what you need.
This year's long-awaited vacation finally happened and it was everything I wished for. Work has taken so much of our lives that we have not really had the chance to unwind.
Visiting Puerto Rico was the perfect getaway and a nice distraction from everyday life for us. This beautiful island was so worth the trip.
It's funny to think that Puerto Rico wasn't even our first pick.
We previously discussed Jamaica, Mexico. And after some back and fourth we picked Puerto Rico at the very last minute.
I really had no idea what to expect traveling there. I have a few friends who are Puerto Rican, but only one non-Puerto Rican in my entourage had been to Puerto Rico and she didn't say much about her stay, so I was going in blind. Which was fine considering that exploring new places is all about the unknown.
Here's a brief history of the Island also a US territory before we jump into the fun stuff you can do when visiting Puerto Rico.
Puerto Rico is known for its landscape of beautiful mountains, waterfalls, and El Yunque tropic rainforest. San Juan where I went, the capital is the largest city. It is known for its hotel strip, beach bars, and casinos. Old San Juan neighborhood is made of very colorful Spanish colonial buildings, El Morro and La Fortaleza, and centuries-old fortresses. Source.
As you can see, there is a lot to do in Puerto Rico whether you're into sightseeing, mingling with the locals or just want to relax and enjoy the beauty of nature. We did a little bit of everything.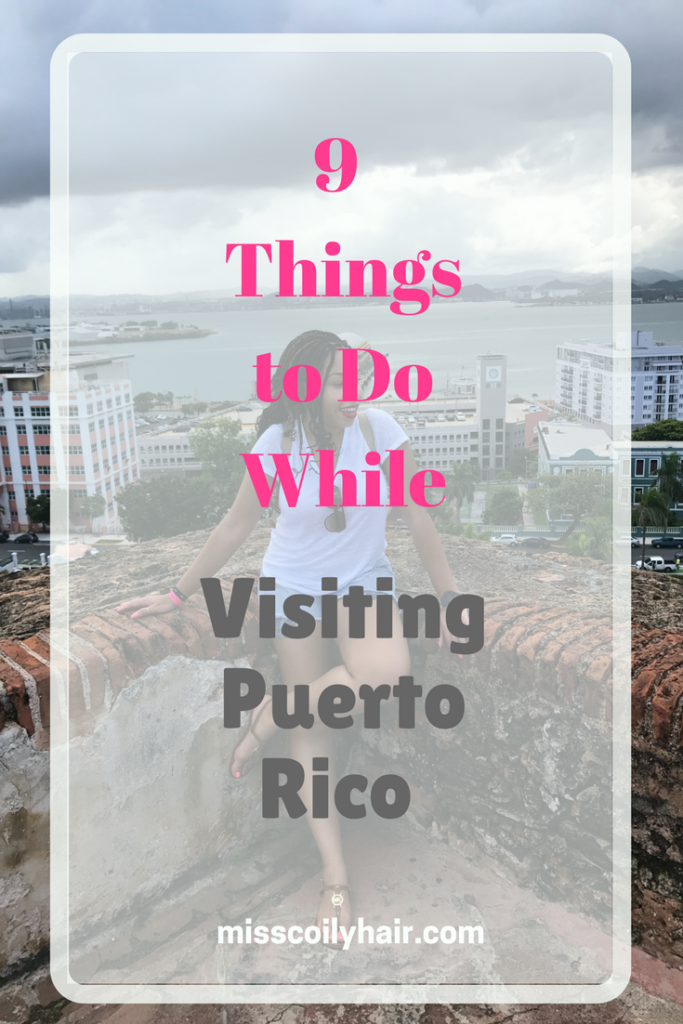 I've put together a list of 9 fun things you can do while visiting Puerto Rico.
1- Take a walk in Old San Juan.
You cannot go to Puerto Rico without taking a walk in Old San Juan. I'm not talking about a quick walk. You should dedicate a day to admire the colorfulness of this place. Old San Juan is pretty much the shopping district of Puerto Rico I should say. You can shop at the souvenir shops on the strip known as outlets. When you get tired you can grab a bite to eat (I had the most delicious empanada ever). Or you can just sit down for a few and take in the beauty that Old San Juan exudes.
2- Visit the fortresses.
Part of the beauty of Old San Juan is the Fortresses. You must visit the fortresses when you go there. We made it our first stop before going store hopping. The fortresses are rich in history, and the architecture is beautiful. Once you make it to the top, you get a beautiful view of the city. I had a pretty good time exploring.
3- Eat some mofongo.
Puerto Rico has some delicious food, but believe me when I tell you the mofongo is the ish. If you don't try it at least once, you're missing out. Simply put, mofongo is fried mashed plantains. It is the bomb! If you like plantains, chances are you will love mofongo. It is served with everything under the sun: chicken, pork, seafood, side of rice and beans (you name it, they have it). You can't quite escape it. So do yourself a favor, and try it.
4- Zipline in the rainforest.
Puerto Rico's rainforest is magnificent. Although we didn't get the chance to experience it, there are plenty of activities you can partake in. If you're feeling adventurous and you enjoy nature, ziplining should be on your to-do list while visiting Puerto Rico. (Book your next zip lining adventure here).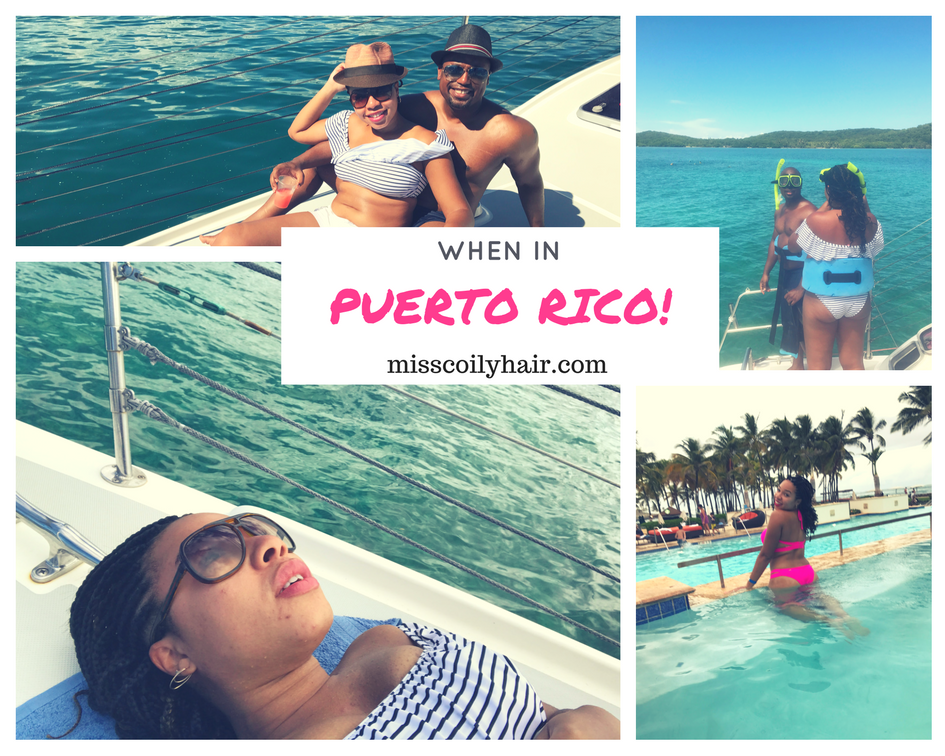 5- Take a catamaran tour of different islands.
For those who enjoy the ocean, a catamaran tour is a great way to satisfy you. We took a catamaran which took us to a couple of islands (Culebra). The staff was pleasant. There were food, drinks, and music. And each time we arrived at an island we got to get off the catamaran and take a dip in the ocean. This brings us to the next activity.
6- Go Snorkeling.
Snorkeling is fun, but it isn't for everyone. If you've never gone snorkeling before, you probably will freak out at first, but once the shock is gone, you'll probably enjoy it. Unfortunately, the water penetrated my mask and I completely freaked out.  I also did not like the fact that I was using the same mask as hundreds of people before me. So my tip to you if you ever do one of these snorkeling tours, bring your own snorkeling mask. It is a lot more sanitary that way.
7- Romantic Dinner at 1919 one of Puerto Rico's most prestigious restaurants.
This was one of my favorites. My honey was feeling romantic and planned a beautiful dinner for us at the 1919 restaurant located inside of the Vanderbilt hotel. Now, this is not your everyday restaurant so expect to pay over $100 for a  bottle of wine. It was such an amazing dining experience. It was all worth it. As we walked in, the table was already set with a nice vase of roses waiting for me (I felt so special). The wait staff was very attentive and the food and wine were just amazing. If you're into splurging on dinner, try them out.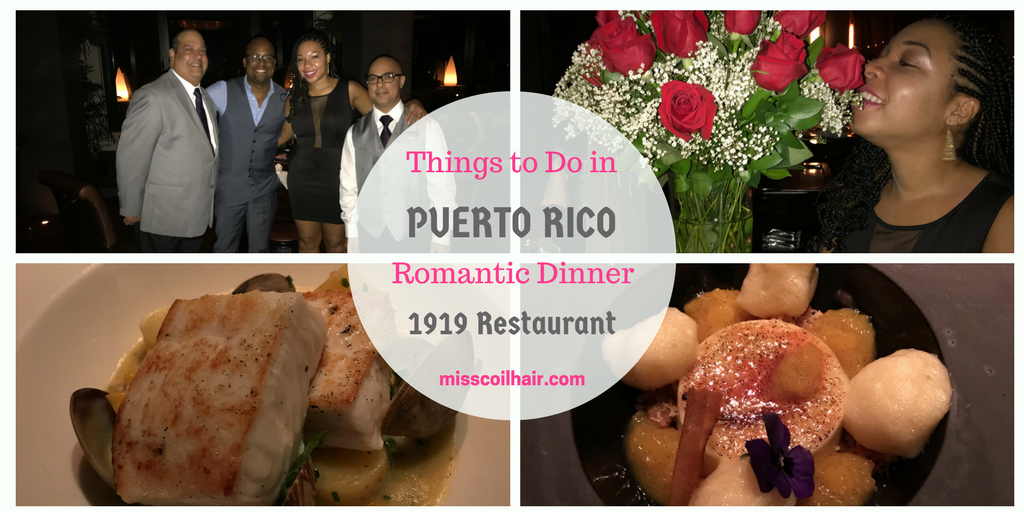 8- Dance to some salsa, merengue, reggaeton.
When it comes to this part, I wished they had a lot more Spanish music playing around versus the regular American music that you hear every day when you're home. If you want to listen to Spanish music, avoid places like Blue Martini. Go where the locals go. There was a very good DJ spinning some tunes at the hotel we stayed at. So it made up for the time wasted at Blue Martini.
9- Relax.
Last but not least, you should relax! After all relaxing is the main reason you're there. So in the midst of doing everything else, take the time to relax and enjoy your partner or whoever you're traveling with. There was a lot to do at the resort whenever we stayed in. They have a beautiful pool with a pool bar. The resort is right on the ocean. They have stores if you want to shop etc… We spent a good amount of our time at the pool near the pool bar. Lol! We soaked up some sun and met some wonderful people from different places. Most importantly we took advantage of that time to reconnect with each other.
We spent a good amount of our time at the pool near the pool bar. Lol! We soaked up some sun, drowned our liver in alcohol (well, that was mostly me) and met some wonderful people from different places. Most importantly we took advantage of that time to reconnect with each other.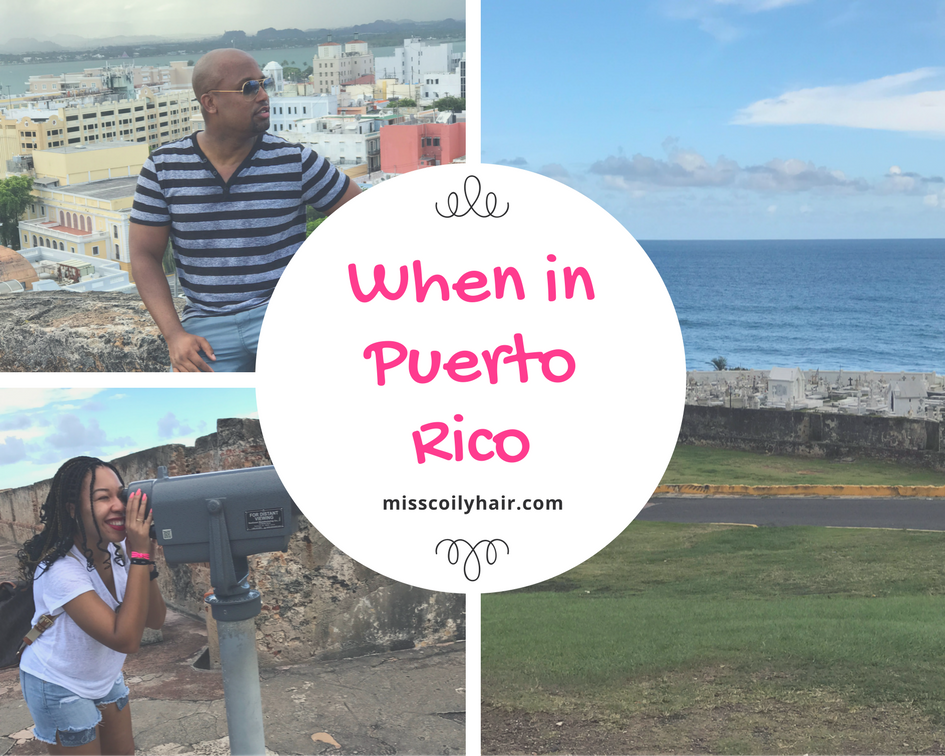 Overall visiting Puerto Rico was a wonderful adventure that I highly recommend.
It was the first time I was able to get my fiancé to go away for more than 2 days. We had so much fun together! Puerto Rico gave us the opportunity to reconnect (so important when you are in a long-term relationship). There, we got to learn about another culture, which to me is what traveling is all about. Unfortunately, we didn't get to go in the rainforest, but I hope we can do that next time!
There, we got to learn about another culture, which to me is an important aspect of visiting other countries.
Now we are back to life as we know it and can't wait for the next trip which might be our honeymoon, but I'm hoping not because it's kind of far away. I have a few destinations in mind, we shall see.
I sure hope you found my post useful, and that my experience visiting Puerto Rico have enticed you to visit yourself.
Have you been to Puerto Rico? What were the highlights of your trip? What do you think my next destination should be? Share your thoughts in the comments below ⇓
Don't forget to hit the share buttons and help me make this post go viral. Sharing is caring!
~~~~~~~~~~~~~~~~~~~~~~~~~~~~~~~~~~~~~~~~~~~~~~~~~~~~~~~~~~~~~~~~~~~~~~~~
For your information:
Our accommodations were booked through Booking.com and we stayed in an oceanfront room at the Caribe Hilton. The booking process was very simple and easy. And of course, we got a really good price (who doesn't like a good deal?). So if you'd like to plan your next trip, don't hesitate to click on this link for the best available deals.
As far as activities, we trusted Tripadvisor.com for the best recommendations.
So if you'd like to plan your next trip to Puerto Rico or elsewhere, click on this link for the best available deals.