He popped the question, now You're engaged! Congratulations!!! But what should you do next?
Your engagement is by far the best moment of your life whether you were expecting it or not. The man of your dreams got on one knee and popped the question. Now you can barely contain your excitement. This is a normal feeling, and everyone experiences it right after they get engaged.
The question becomes: What should you do now that you are engaged?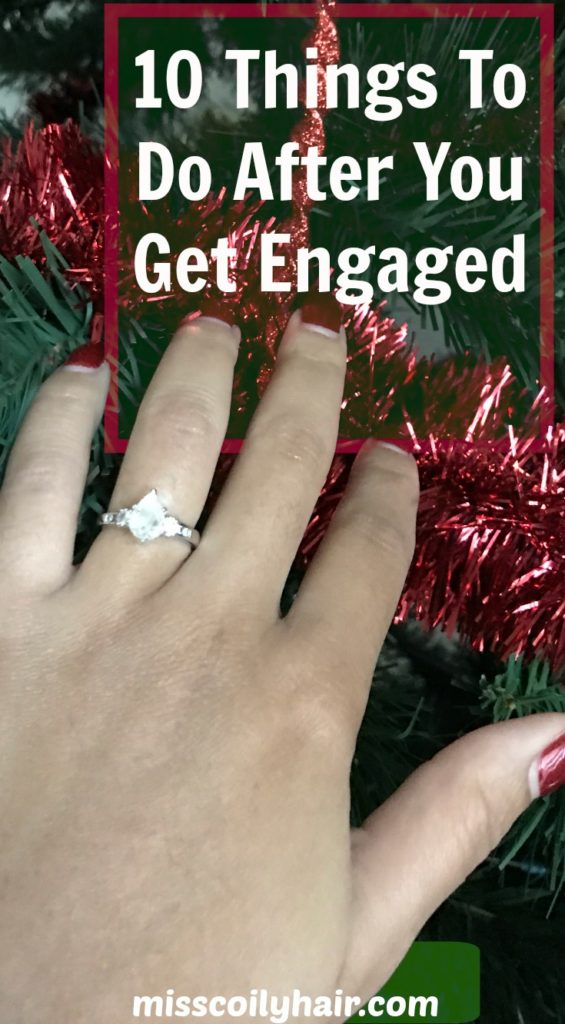 As someone who's been in your shoes, I know a thing or two about it. So I've put together for you a list of 10 things to do after you get engaged.
1- Share the news with your family and friends. It is tempting to announce your engagement on Facebook. Of course It is an exciting moment in your life and you want the world to know about it. Call your parents and family members first before taking it to social media. You owe it to them not to let them find out that you're engaged with the rest of the world.
2- Get a manicure. This might sound a little vain, you'll be glad you did it. Everyone will want to see your ring. You want your nails to be pretty when you show off your new bling to your family and friend, and even strangers. I was unfortunately due for a manicure when my fiancé proposed. If only I knew, I would've been ready. I scheduled my appointment the very next day to remedy the situation.
3- Insure your ring. You should insure your engagement ring. Nothing can replace the sentimental value of your ring, but at least you can get its monetary value should anything happen. The cost of the insurance is based on the value of your ring. It really doesn't cost much to insure an engagement ring. Your ring appraised and insured ASAP.
4- Celebrate the moment. Take some time to celebrate being engaged with your fiancé. Plan a night out where the two of you can go and celebrate this new chapter of your lives together. Once you start planning the wedding, your life will revolve around it. You want to make sure you make time for each other and bask in the moment for a little bit before starting to plan. Sit down and reminisce about your past together, and visualize your future as a married couple.
5- Get a wedding planner. You should invest in a wedding planner to help keep yourself organized throughout the wedding planning process. After the excitement of being engaged simmers down, you will want to have a folder to keep all your wedding ideas. Once you start planning, the planner will guide you and help keep you organized. A few days after I got engaged, I went to Barnes & Nobles and purchased "The Knot Ultimate wedding planner and Organizer" I also registered online at theknot.com. The website has a lot of great tools to help you successfully plan your wedding from A to Z.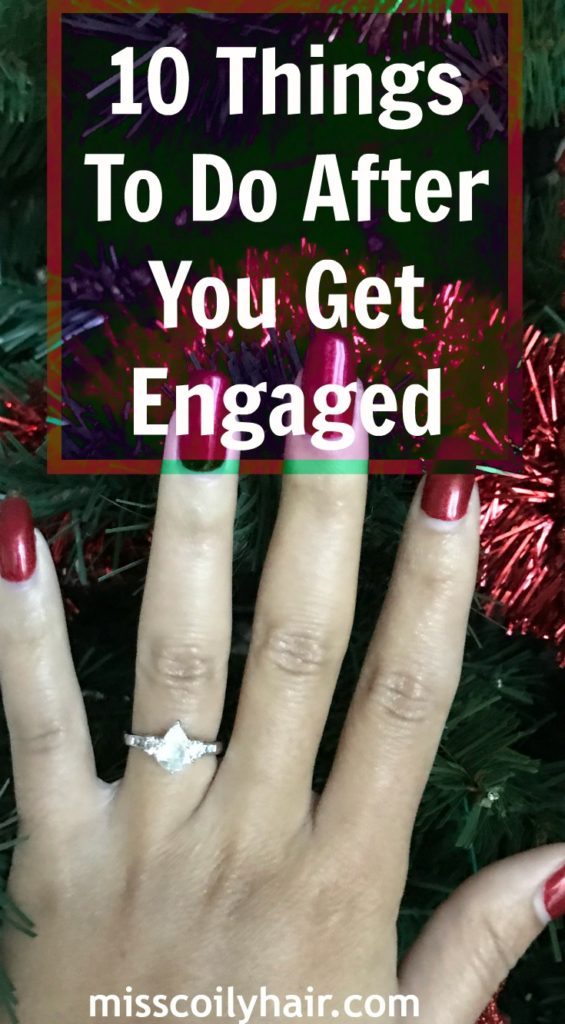 6- Create a pinterest board. This part is fun! Pinterest if full of great ideas for weddings. I suggest you browse around pinterest (if you haven't done so yet) and create a wedding board and start pinning. Not only pinning is fun, but you will be able to gather ideas no matter what your vision may be for your wedding. I started my Pinterest wedding Board way before I met my fiancé. It has helped me tremendously with certain aspects of the wedding planning. Take a look at my personal wedding Board.
7- Set your wedding budget. This is one of the most important things you will need to do after you get engaged and before you start planning the wedding of your dreams. Set your wedding budget. Without a budget you are heading towards failure. Your budget will help you know exactly what you can afford and what you can't. The last thing you want is to start talking to vendors without knowing how much you can spend on their services. A budget will help figure out which vendors to approach and which to ditch. Don't just plan the wedding based on what you like. Plan it based on based on what you can afford. One last thing to keep in mind is to be realistic when setting your budget. For more about setting up your wedding budget, Read this article .
8- Pick a wedding date. Each time you tell people you're engaged, they will ask for the wedding date (which can be annoying). In order to avoid the nuisance, even if you don't have a specific date picked out, think about which time of the year you'd like to have your wedding. Do you prefer spring time, summer, fall, winter? Or you might have a date that is dear to your heart? You can maybe think about the date you met. Maybe the date you had your first date, or the date he proposed (any date that is dear to the both of you). The possibilities are endless.
9- Build your marriage. It is very exciting to start planning your wedding, But don't forget to build your marriage. Don't get so consumed planning the wedding that you forget to build your marriage. Your marriage should be the most important part of the equation. It is important that you give your fiancé your attention like before. You should not stop doing the things that he fell in love with. You should make sure that you work on your relationship continuously as you work on planning the wedding. Go to wedding counseling. Read Books. Keep dating each other. These are all things that will make the success of your marriage. The wedding is for one day, but your marriage is for ever
10- Have fun with it. Wedding planning can be very stressful and take up a good chunk of your time. Things will go wrong as you plan your wedding. It is inevitable. Just remember to have fun planning your wedding. Don't be bridezilla. Delegate tasks between your bridesmaids. Don't let wedding planning consume you. If the planning isn't fun, then is it really worth it?
There you have you it ladies! after you get engaged, these are 10 things you should do. Is there anything you would like to add the the list? Don't forget to share below ⇓
XOXO
♥Miss Coily♥